Welcome to
Aritaur Dobermanns
Aritaur was established by Martin Horgan & Jay Kershaw (ex Horgan) in Staffordshire in 1987. We are no longer married, but Martin was an equal part of Aritaur, so his name will stay here. It is now just me breeding, still in Staffordshire Moorlands.
I breed for top quality, healthy, confident, sociable and good looking dogs. I show and train my dogs in the sport of IPG/Schutzhund.
I am a KC Assured Breeder, not breeding commercially with on average one or two litters a year. I know where all the dogs we have bred are, and remain in regular contact with their owners.
I breed sparingly, selectively and conscientiously for strong, healthy, sound dogs capable of good physical and mental stamina whilst working or showing, with trainable and steady characters. We have always predominantly used the best European lines for our breeding due to the soundness and strength of character, but are happy to use a good dog wherever it is from.
Having seen the devastating results of (Dilated Cardiomyopathy) DCM, we have always strongly believed in health testing and were the first UK Dobermann breeders to routinely test all our dogs for DCM.  BUT testing does not guarantee us against health problems. All my dogs (whether bred from or not) are routinely tested for health conditions BUT we must all consider the whole dog in a breeding program rather than on a single health result. Removing a dog from the gene pool due to one poor but non life impinging condition when he/she may have outstanding character, otherwise superb health and excellent breed type, would result in catastrophe for any breed.
My promise to my puppies and my buyers is that I will never knowingly breed from dogs or bitches with serious and proven health problems, and will never compromise on character just to breed a good looking show dog.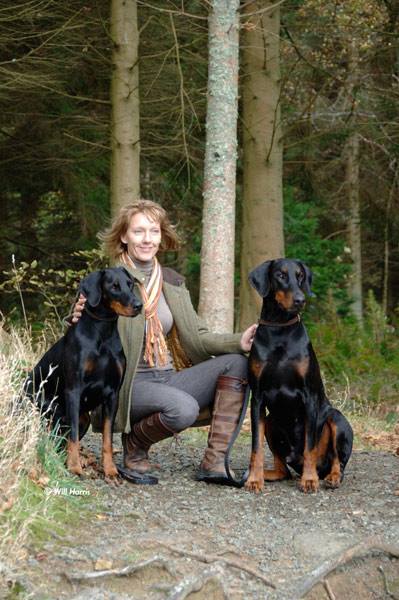 Aritaur dogs stay here for life and are not re-homed when they can no longer be shown, worked or bred from. My sofas are not so full of oldies these days as I lost three old dogs in 2019; it was a hard year. When you choose a breeder, you may find it interesting to ask where their old dogs are – if it matters to you?!
If you want just a dog just for show rather than companionship (get a life), a couch potato (get a cat), kennel or guard dog (get an alarm system) and don't call me!
I am very proud to have a reputation for breeding Dobermanns true to type which have competed at the highest levels of IPO, showing internationally, Obedience, Working Trials, film-work, Agility, Cani-x.
Aritaur have always adamantly oppose the backward mentality of some show breeders that show dogs should not receive at least basic obedience. It grossly insults the intelligence of this breed. Click for Training.
Most Aritaur dogs are owner/handled in various disciplines with great success. I am not a political animal – quite the contrary, and have never given favours in judging. I am proud that all Aritaur breeding have gained their top awards on merit.
If you are considering owning a Dobermann but are unsure if you are right for the breed, we have an FAQ's page. Perhaps visit a local dog show to meet the breed in an environment other than its home, and meet up to join local owners for a walk with their dogs.
I no longer campaign my dogs actively in showing as I just don't have time, although I might venture out occasionally this year, but instead train my dogs in the sport of IPG/IPO – tracking, obedience, protection, and also plan to try ourselves at man-trailing which I think young Frisk in particular would enjoy. 
Follow Aritaur on Facebook for updates
Dobermanns: A Practical Guide for Owners and Breeders
Some years ago I was approached by Crowood Press publishers to write a book on the breed as there hadn't been any new breed publications for many years.  It took two years and I didn't want to sit at my computer again for months. It is available on Waterstones, Amazon, or most online suppliers or book stores. Hope you enjoy it.
As a breed, Dobermanns have acquired an unjustified reputation as 'devil dogs' due to their courage, loyalty, intelligence and physical strength. This book aims to dispel the myths surrounding this magnificent dog, and shows how Dobermanns can be loving and gentle family pets, as well as their more traditional role as guard dogs.
Dobermanns - a practical guide for owners and breeders traces the development of the breed from its early beginnings in the nineteenth century through to the present day, and offers the reader advice on every aspect of rearing and caring for these beautiful dogs.Topics covered include: The history of the breed; Choosing a dog; Health and welfare; Showing and judging; Breeding. Superbly illustrated with 260 colour photographs.
Author: Jay Horgan (now Kershaw), Aritaur Dobermann