Dog Showing,
Handling & Judging
Dog showing has given me so many great friendships around the world and I have been honoured to have been invited to judge overseas – Galaxy Serbian Winner Dobermann Club Show 2018, French Dobermann Club Show 2017, California Nationals (German Pinschers) 2016, and various Championship shows in the UK. Years ago I judged in Russia, Ukraine and Germany for another kennel organisation; some interesting experiences there, notably in Ukraine with the late John Christie where we ended up being put up at an army base. Not sure which was rougher, the barracks or the dogs that had just come down from the hills guarding the flocks! The Pit Bulls and Cane Corso were super impressive, and I was disappointed to have been allocated the small breeds to judge on the first day- until one of the Mastiffs who was nearly as big as John (and he was a big fella), nearly took him out whilst he was assessing him! 
I judge many breeds, but only award CC's in Dobermanns at the moment. I haven't pushed my exams to judge them as I didn't have time to work, work dogs, and show them, so something had to give. I am on the B list for Schnauzers, Great Danes, St Bernard, Basenji, and Beauceron which I am next judging at LKA 2022. My next Dobermann appointment is Northern Ireland Dobermann Club show in 2021 or maybe 2040 at this rate!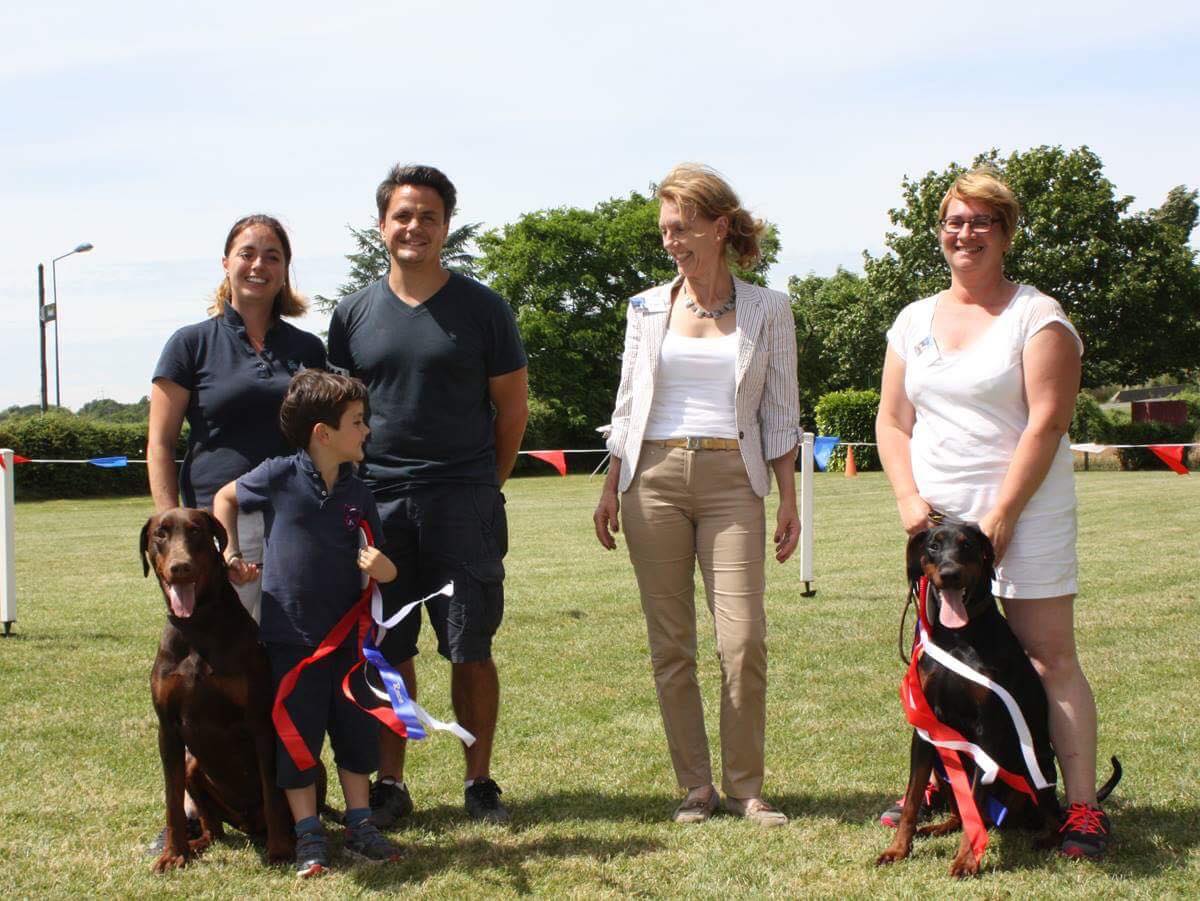 Dog Showing,
Handling & Judging
I am also honoured to have handled a few dogs bred down from our old breeding. My particular favourite is Ch Grafmax Roberto Alagna JW (Ch Chancepixies Locomotive x Grafmax Ninette de Valois, who I made up to a champion at just 19 months.
Ringo was bred by Sue Thorn, and his dam's sire (Kiki, owned by Ian & Alison Godfrey) was by Int Ch Aritaur Histabraq SchH3 so I had an interest in him from the start. I suggested the litter might be a good idea for Sylvia to consider, and Ringo was a standout for me. He is owned by Sylvia Wilcox and now has 5 CC's; his later two won with Sue handling him. Absolutely all-male and hugely charismatic in the ring.
Ringo won Best Puppy at Crufts 2017 from Dave Anderson (Chancepixies). His first CC was from Lynn Glass (Gaindyke) at just 12 months, his second from Robert Downie (Knecht), and his third Jackie Stubbs at 19 months.
Ringo's brother Grafmax Alfie Boe is owned by Phil & Christine who also own Aritaur Ginerosity, and Christine has had good success showing 'Alfie' as her first show dog.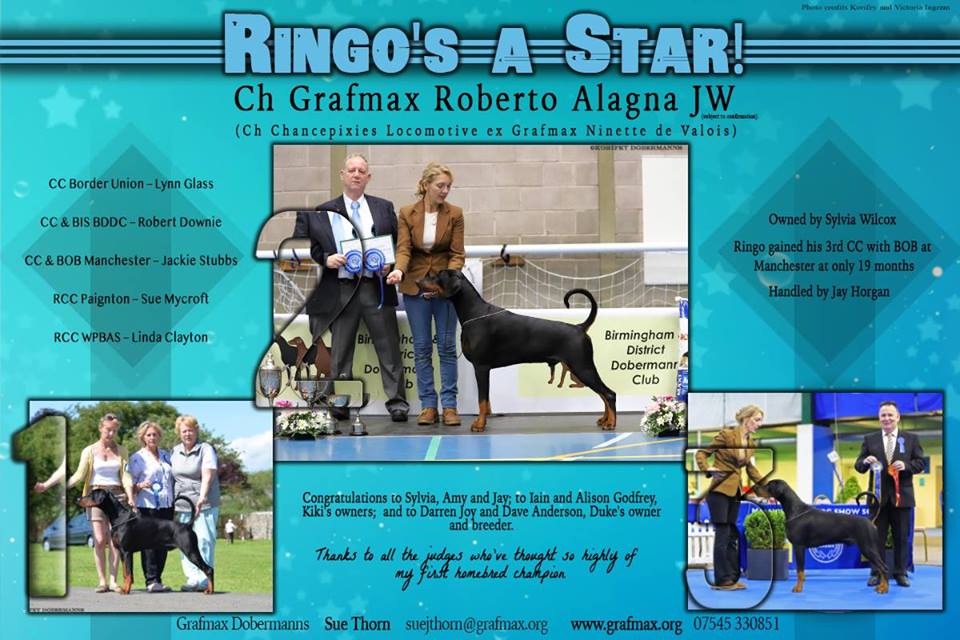 L-R Alison Godfrey, Amy Wilcox, Iain Godfrey, Sue Thorn, Sylvia Wilcox, RINGO, me, Judge Robert Downie at Birmingham & District Dobermann Club awarded his 2nd CC.