Sport & Working
your Dobermann
What does 'working' your dog mean? For any breed it is being used for the purpose for which they were bred For the Dobermann that would mean security/protection but could also be as a service dog to the disabled which is something Dobermanns are widely used for especially in the USA.
Most standard training clubs offer dull obedience routines with bored young dogs and equally bored owners walking in circles around a village hall. Of course the basics are fundamental, but it is unlikely you or your dog will learn much from these classes full of other wild young dogs. Don't expect clubs to do the work for you. Dog club isn't the equivalent of you going to the gym once a week and stuffing yourself with doughnuts the rest of it. Here's a fortune cookie tip – you will fail if you don't put the work in every single day especially when your dog is young. Everyone starts out with great intentions; few see them through.
There are many sports options from basic to competition standard obedience, agility, tracking, flyball, Schutzhund, Working Trials, Endurance Tests, Cani-X, heelwork to music etc. Scent work from man-trailing to article (ie drug/explosive) -detection is now very popular, as is joining to train Search & Rescue
Anyone considering working their dog should visit both a Working Trials club and a Schutzhund training club to find out which sport they and their dog would be best suited to. Don't expect to be taken seriously and allocated time if you're not 100% serious, don't pitch in to help, don't stay out on the field to watch and learn, and if you don't turn up regularly. Prior to 2001, KC registered dogs were only officially allowed to train and compete in Working Trials. In 2001, with a lot of work from the BSA, KC registered dogs were allowed to compete in Schutzhund (now IPG). It is still a GSD dominated sport and both dogs and owners need to work to their utmost to gain the respect of the working community.
The Kennel Club Good Citizen Dog Scheme is an ideal introduction for the novice dog owner who wants to do 'more'. Visit the KC site www.the-kennel-club.org.uk for more details. Aritaur Falko is the youngest Dobermann ever to gain his Bronze at 16 weeks, Silver at 6.5 months and Gold at 9 months. His owner Marianne Venn-Loveday had never previously trained a dog and we remember Dot Cullum fondly for guiding Marianne to this level.
The sports of Schutzhund and Working Trials cover the same disciplines – obedience, agility, tracking and manwork, but are done in different styles and with different systems. In Working Trials, no bite work (sleeve biting), is undertaken as part of the sport until primary titles are achieved and until the competitor wishes ultimately to compete at Patrol Dog (PD) level. In Schutzhund, 'bite work' is fundamental to working dog on prey drive. Schutzhund is no more about teaching a dog to bite than Working Trials. It is about utmost control and equal emphasis is placed on tracking and obedience. No dog is allowed to compete in Schutzhund competitions or trials without having passed a BH – a character test. No dog should be trained in protection unless it possesses complete mental and physical soundness.
IPG (prev IPO/Schutzhund)
PG The sport of IPG (originally called Schutzhund then IPO; same thing give or take), originated in Germany at the beginning of the century to determine true working ability of German Shepherds intended for breeding. It is a sport requiring utmost control of the dog, and the IPG dog must never be aggressive except under those specific situations it is trained to face.
To be able to compete in Schutzhund dogs must first pass a BH test – of character and obedience.
IPG tests three specific areas of a dog's training and behaviour.
Section A – tracking (with deep nosework – not airscenting), requires the dog to track footsteps, find 'dropped' articles and indicate their locations to the handler.
Section B is obedience. Heeling on and off lead, sit, down and stand, long down, dumbbell retrieval and a one metre jump and A frame. The dog is also tested under gunshot.
Section C is the protection phase. Remember this sport is about total control. The dog must never bite the helper, unless either the dog or the handler is being attacked. Then it must attack fully and without hesitation. But the dog must immediately stop biting on the command of the handler and guard the helper without further aggression.
When a dog successfully completes its first trial it is awarded a title of Schutzhund 1. The dog can then progress through Schutzhund II to Schutzhund III. Each level makes ever greater demands on the dog and training in all three areas.
Look on the BAGSD and GSDL websites for regional clubs, but be prepared to travel for the best helpers/trainers.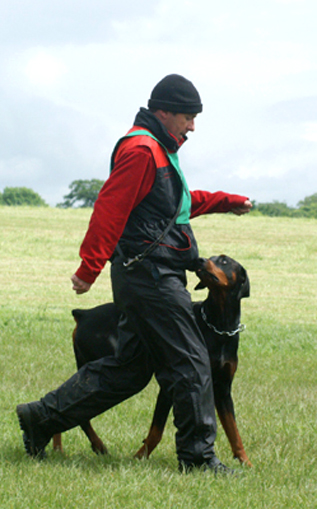 Int Ch ARITAUR HISTABRAQ SchH3, 1 CC 'BRACCO' (Int, Multi, Russ Ch Tamerlan iz Slavnoi Stai IPO1, 3 x Russ Character Test 'A', TPRT1 x Ned Ch & EJS Ned Ch Aritaur Dominatrix)
Above and below – named with pride after his father, Bracco 'Junior' was owned by Lorraine Porteous in Scotland and trained using play with motivation and kindness.
Working trials are similar in the discipline of IPG – all-round tests that require dogs to have the initiative and scenting abilities of the Field Trial dog, the control of the Obedience dog and the dexterity and athleticism of the Agility Dog; and, if you compete in the Patrol Dog Stake, the courage of a Service Dog. There are five levels of competition known as 'Stakes'.
Companion Dog (CD) Stake
Utility Dog (UD) Stake
Working Dog (WD) Stake
Tracking Dog (TD) Stake
Patrol Dog (PD) Stake
Each Stake combines exercises in three sections: Control, Agility and Nosework.
Control Round
This consists of heelwork, which is conducted both on and off the lead, at slow, medium and fast pace; recall to handler; sendaway and directional control with a minimum of 20 yards outrun to a designated spot and then a redirect to another pre selected area. A 2 minute sit stay and 10 minute down stay out of sight are also required along with the retrieve, steadiness to gunshot and the "speak" on command.
Agility – Dogs must clear a 3ft hurdle, 9 ft long jump and scale 6ft twice.
Nosework – This consists of a ½ mile track, which can range from 8 – 25 legs or more, on any terrain aged between ½ hour – 3 hours and on which are placed 3 small articles that the dog must indicate. A search square is also included which requires the dog to find and retrieve 4 small articles in a 25 square yard area within 5 minutes.
Manwork – In the PD Stake, a number of exercises are included which test the working skills of a patrol dog, including quartering the ground, the pursuit and detention of 'criminals', food refusal, attack on handler, search and escort and recall off criminal.
To qualify "excellent" the dog must obtain 70% of the available marks in each section and 80% of the overall available marks to enable CD/UD/WD/TD/PD ex to be placed after their name.
If the dog wins 2 TD or PD championship stakes it becomes a Working Trial Champion.
The main difference between the two sports is that the test remains the same in Schutzhund, whereas in Working Trials the design can vary widely from competition to competition and so the handler must train for a much broader variety of possibilities.
Thanks to Allyson Tohme for writing this explanation
Above and below – named with pride after his father, Bracco 'Junior' was owned by Lorraine Porteous in Scotland and trained using play with motivation and kindness.
Bracco 'Jnr' and Lorraine train with our highly respected friend Yvonne Walker whose all breed dog training school 'Darcregan Dog Training' in Scotland turns out some of the best UK Working Trials Dobermanns and prospective working dogs. Yvonne is an Associate of the world famous John Rogerson and we are always honoured to send Aritaur puppies and those by our dogs to train with Yvonne in Scotland. 0131 665 0747 e-mail: yvonne@darcregan.co.uk
Kennel Club Good Citizen/BIPDT Schemes
The basics of a well-trained dog is the basis to any activity or sport. The Kennel Club and the BIPDT initially formed the scheme which the KC use, and which offers basic to medium advanced training through many local dog clubs.
Everyone knows Nicky Warren and her fabulous Aritaur agility dogs. Nicky is in high demand for film work listing the lead on the Dobermanns in Merlin, Bakers Complete, Yellow Pages (with James Nesbitt), and Renault among many other programmes and films she has worked on. Dobes are excellent for agility work as they enjoy speed training and respond brilliantly to fast command delivery. Nicky has had 4 Aritaur bitches from us over the years and has competed in full time competition with them all.
Gunn Anita is in the Norwegian Military and trains her Dobermann in military and civilian search & rescue. With experience in training GSD's for many years, Gunn Anita maintains that the Dobermann is different; they have a special personality- they always go as far as you want them to, and then they go further.
"I suppose the fact that these dogs aren`t natural herders make them more fun (and more challenging) to train- you have to co-operate with a Doberman, be a team- worker. They have a different intensity in their work, and are a lot more independent. Most GSD owners have problems with their dogs lack of independence- this has never been an issue for us.
This makes outstanding service dogs; in our work we need dogs who can "prove" us wrong- I might try to pull my dog off a track if I don`t believe it is possible that the person we look for is actually in that area. The dog must be able to say: Yes, he IS! and keep doing his job. Or I can try and call him back from a free- search when he`s got a whiff of human smell in his nose. If he then obeys, a persons life might be lost. In military work we seldom use free searches although we have "silent" dogs because of the risk of the dog getting killed".
Anita's Father also spent many years training and working with GSD's and always said 'you must have a bigger brain to train the Dobermann'.
Claire Sheridan with Tunya (Histabraq x Mirdale Miss Christy) Tunya is no longer with us, but he and Claire loved competing in Cani-X. Claire wrote 'we came 7th at the last Cani-X of the season (after a week of no training and far too much red wine!) Rain was torrential but we finished the season (after only 2 races) 16th out of 97!"
Nicky Warren's dogs have been used in many film roles; listing the lead on the Dobermanns in Merlin, Bakers Complete ( this is one of my favourites) , Yellow Pages with James Nesbitt