Int Ch Aritaur Histabraq (Bracco)
Int, Lux Ch Aritaur Histabraq 'Bracco' IPO3
Int, Multi, Russ Ch Tamerlan iz Slavnoi Stai x Ned Ch, Europa Jugend Siegerin, Bel & Lux Winner Aritaur Dominatrix
DOB 26.02.04
The first UK bred Dobermann with a SchH3, and the only Dobermann to gain a Schutzhund 3 qualification score at a National Trial.
This is 'Bracco' – our once in a lifetime dog. An outstanding working dog, sire of Champion progeny all of wonderful characters, and the most gentle, kind dog with children that anyone could hope for. He was a dream dog. Perfect to live with – and we loved him with all our hearts.
For Aritaur Dominatrix' first litter, I drove to Moscow to mate her to one of Europe's current top sires ~ the Russian dog Tamerlan iz Slavnoi Stai. From the famous 'T' litter we had seen many of Tamer's progeny at the IDC (Int' Dobermann Club show in Bratislava '03) and were very impressed by not only his progeny, but those of his siblings from the famous 'T' litter who made a considerable impact on the breed.
Tamerlan combined elegance, substance and steady character and Bracco inherited his sire's stable, loving and focused attention with plenty of drive for work. Our dogs were used by Tigress Productions in a documentary of 2007 on the evolution of dogs. Bracco was filmed playing with children he didn't know in the fields, where he lay down with his head in their laps whilst they covered him with grass. He really is the 'all 'round Dobermann'. We remain incredibly proud of Bracco and  the success and character of his great descendants
Schutzhund covers three disciplines – tracking, obedience and protection all to the highest standard. The dedication to train even one discipline alone, is immense, so to gain a Schutzhund 3 requires outstanding training by an outstanding trainer.
That team was Martin and Bracco. 
In March 09, the UKDA (UK Dobermann Assoc') held the first ever UK ZTP (Fit for Breeding) test. Open to dogs who have achieved their BH (minimum), 9 dogs were tested and 3 dogs gained the highest possible grading of ZTP V1A: Aritaur Histabraq, Chris & Tracy McMullen's Aritaur Vincent Vega and Inguna's Grase's Latvian bred female (later bred to Vincent Vega to produce the only UK litter with two ZTP parents), . Congratulations to all participants for testing your dogs and to  Dave & Heidi at Chancepixies for hosting the trial judged by Herr Wiblishauser from Germany, to the members of the Osnabruck Schutzhund Club and helper Normann for your help and generously given time.
Bracco gained his Schutzhund 1 qualification in 2007 at Bolton Sch Club from German Judge Walter Schier, (ADRK) his SchH2 in 2008 at South Cheshire Schutzhund Club from German Judge M Scholz and his SchH3 in 2009.
Bracco was the first UK bred dog, and only the third UK Dobermann to gain a SchH3 the top Schutzhund level in the UK, and also achieved the record UK score in SchH3.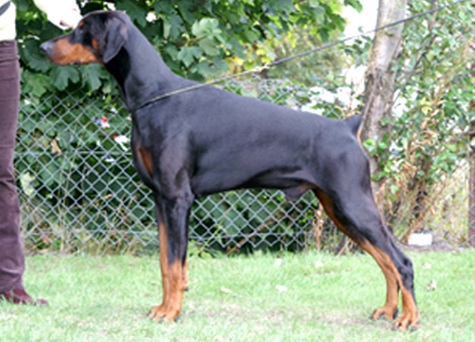 Photos of Bracco around 3 years old by Dean Sawyer
Photos of Bracco around 3 years old by Dean Sawyer
As some will know, I was 'banned' from all Bracco's trials, as having gained a great track score of 90 on his first SchH1 trial, he saw me trying to stay out of sight behind a van and broke a long down. The owner of the other dog on the field recalled her dog while Bracco was doing his long down on the field and Bracco thought 'that's my mum calling me!' He left the field to find me so he was very obviously disqualified! I was cold in that dog house for some time!
Bracco faded badly in the heat, so when Martin rang in a record 98 in tracking on a Saturday of 2008 in the blazing heat, we were over the moon. On his SchH2 he brought in a very low 72 in obedience (70 minimum pass rate) – he was usually very fast, but went out very slowly probably due to the heat. In the afternoon redeemed himself with a good 90 in protection.
. 98 is the highest ever score for tracking from a Dobe in this country, and Bracco also brought in the highest SchH3 tracking score on the day's trial beating all the GSD's.
Anyone who trains their dogs for any type of work will know the massive dedication involved in training, and Martin and Bracco worked so hard day in, day out, travelling every weekend and weekdays to justify Bracco's full potential. Thanks to all his friends around the world for your great support and love for this fabulous dog.
Bracco always had a love for children and despite being a big male, he was always very gentle with them. All visiting children felt a very safe energy from  Bracco who naturally stood alongside them. We don't keep a stock of small pretty blonde children for photo opportunities, (and Bracco doesn't discriminate) but all our friends' children just happen to be little blondies.
Why good breeders who care about character and health, not not just looks, used Aritaur Histabraq:
With an exceptional pedigree and of the outstanding 'H' litter which became the most titled litter in UK breed history. Histabraq is nearing 10 years old (Feb 14). He has won internationally and has produced Champion progeny and many others with CC level in the show ring.
HEALTH:

DCM Echo Clear Feb 09, March 10, March 11.
Troponin tested 12.2012 normal, 02.12 waiting for results
'DNA' gene tested Clear/Negative.
VWD Clear by parentage,
Hips 3;6,
Eyes PHPV Clear,
Thyroid normal March 11 TgAA normal March 2010
All breeders who used Bracco were blessed with the quality and the character of the puppies and all reported balanced litters with happy owners and no puppies returned due to character or health problems.
Histabraq – Outstanding Character, Excellent Health, Quality Breed Type, Winner and Producer.