Crislea Centrefold of Aritaur (Juno)
Crislea Centrefold of Aritaur (Juno)
Ch Holtzburg Mayhem x Holtzburg Dior from Crislea
DOB 16.01.96 – 8.01.08
Juno was the foundation of Aritaur and we knew what we had from the start. She was a Ch Holtzburg Mayhem daughter out of Holtzburg Dior from Crislea, and was a double Mayhem grand-daughter. She had three wonderful litters with fabulous puppies in each. Juno didn't have just one good puppy; each litter had so many winners and countless champions are downline from her.
Juno was our training dog in every sense. If a dog came for training who was nervous, disrespectful of other dogs or who wouldn't recall, Juno joined us to teach them how to behave. Dogs just followed her naturally. Everyone was always impressed with her regal, calm nature and she was the utmost ambassador for our breed. Kind, funny, sweet natured and very much the boss, Juno brought up her babies and many other litters with gentleness and firmness. No puppy stepped out of line with Juno – and no adult for that matter! She would raise an eyebrow and the culprit would drop down and try to ingratiate themselves with her. Truly a real alpha bitch.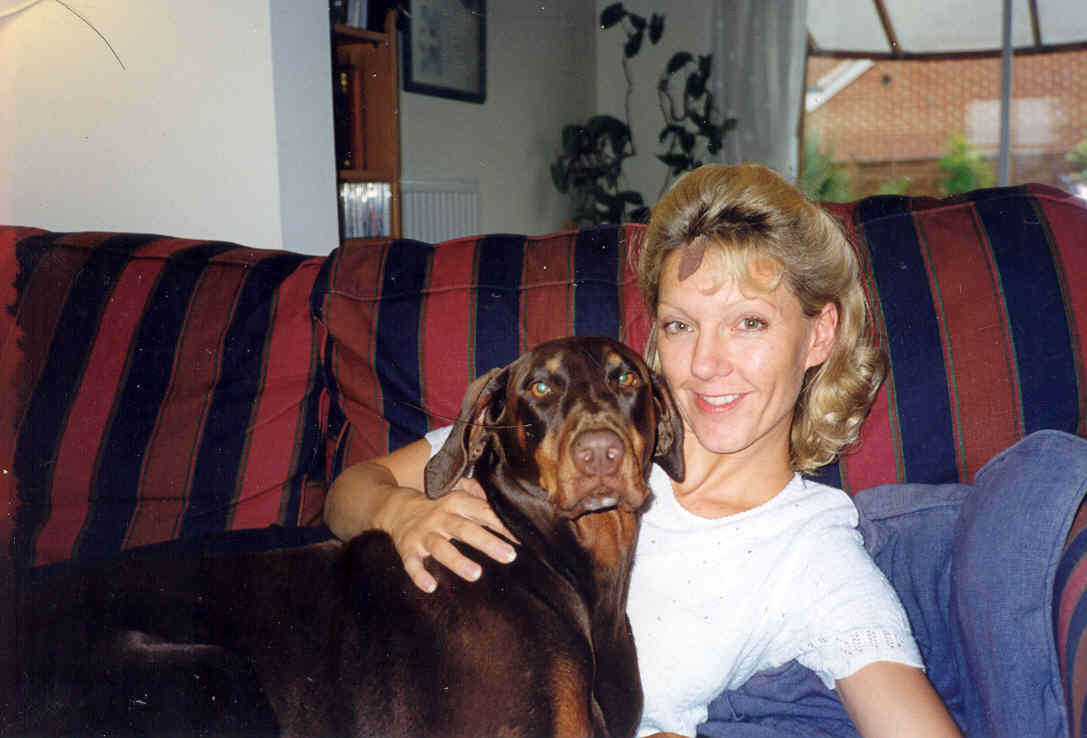 As she grew older, she came up to do the hens with me in the morning and enjoyed pottering around. She was loving her canter around the fields just the week before she died. 
Juno never had one day of sickness in her life. We were once terrified she had bloat, then discovered she'd raided the neighbour's 7.5 kg sack of dog food on a visit there. 
She was everything and more to us – she really was our shining light and we missed her reminder every evening that it was getting earlier for biscuit time each night. 
Juno knew she was loved overwhelmingly – everyone was a friend to her and she loved everyone. I didn't get to say goodbye to Juno which has always been a deep regret, but she knew she was one of the lucky ones to have been loved so much and we were so blessed she gave us so much. One of the absolute best. 
To those who have Aritaur descendants, please don't ever forget her and remember that your dogs are very special with that bit of Juno in them.
Juno left us on 8th January 2008, just 8 days short of her 12th birthday. A fit, healthy, wonderful life. She was treasured. 
Juno had 3 litters and from those directly, had 10 Stud Book Number Winning Progeny. Two daughters became UK Champions, another became Dutch Champion and European Jugend Siegerin 2002 and Top Brood Working Group, and another became Lux & Dutch Champion. Juno's last show was at Birmingham Dobermann Club, where she won Best Veteran Bitch latterly a title won by her Champion daughter Aritaur Surprisingly Soba JW.
Every kennel needs the very best bitches as their foundation, and although Juno did not achieve Top Brood Bitch herself, her daughter Dominatrix gained this great accolade in style for Top Brood Bitch for the breed and the topping the league for Top Brood Bitch of the UK Working Group 2007.
Juno's first litter in 1997 to a son of Ch Sallate Ferris, produced A. Flip Fantasia JW, 1 CC, 1 RCC (Java), A. Midnight Rave 1 RCC (Caius) & A. Judgement Knight from Khaneve. All three gained their stud book numbers, and had a very successful show career. They put Aritaur on the winning map. 
Juno's second litter in January 2000 was by Ch Miendy's Soba Up JW 'Levi', and produced 8 puppies 5 shown at Ch shows all of whom qualified for Crufts by 7 months. At just 6 months, 4 days, Champion Aritaur Surprisingly Soba (Honey) showed her future promise by winning Reserve Best Puppy In Show ~ beating hundreds of other puppies of all breeds at National Working & Pastoral Breeds Championship show in July 2000. Her litter sister also became a Champion Aritaur A Little More Soba, our 'Riva' and Aritaur Storm Damage 'Jed' won 2 RCC's.
In May 2001, we took Juno to Belgium to be mated for her 3rd and final litter to German VDH Champion Ramonburg's Valdo. From this mating, two bitches in particular became future legends: our Ned Ch A. Dominatrix won the Europa Jugend Siegerin title at The Euro Dog Show Paris 2002 from P. Pezzano (del Citone), and her Belgian Winner Title, gaining her major recognition in Europe. and later gained the most coveted title of Top Brood Bitch overall in the Working Group 2007.  
Her sister Dutch & Lux Ch A. Dolce Vita owned by Malcolm & Marianne Smith (Vanhallen), was the dam of the Crufts BOB winner 2010 bred by the Smith's.  
Everything and more you could want in a dog.. Exceptional beauty and the strength behind our success.
Life was never sweeter than when Juno was around.